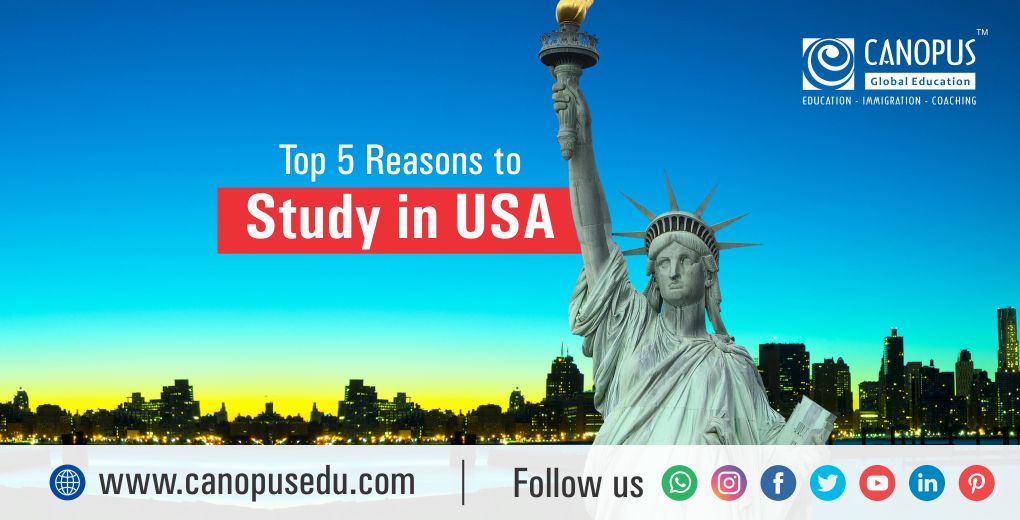 The United States appears to have an endless supply of educational and training options. The country's stable political atmosphere provides residents with a sense of security and safety. The quality of life in the United States is far superior to that of most other countries. To achieve an error-free application, the immigration application process must be performed with competent supervision. For the greatest benefit, it is better to rely on qualified USA visa consultants in Surat like Canopus Global Education

.
Huge Range of Courses to Choose
The USA universities and colleges offer a huge range of undergraduate, postgraduate, research, diploma and other courses according to their needs and interests. It is a country where you can experiment with different classes and multifarious courses. During studies, students will be able to interact with well-known scholars who will guide you during the course of education

.
High reputed institutes –
The US education is well recognized and continues to maintain a strong presence among top-ranked universities in the world. The world best universities are located in the US such as MIT, Harvard, Stanford, Caltech and the University of Chicago, but it is also home to the hundreds of other prestigious universities and colleges. Despite the numbers, it is the quality of education provided by universities, colleges, and institution that is acknowledged worldwide for their excellence. The quality of the wide range of courses and program ensures that the institutions have high standards.
American universities provide advancement of facilities, new methods and skills in research and training for international students at the graduate level. Students will get a chance to assist their professors while doing research on different projects which helps in the broadening of their knowledge and skill set. It also gives students the opportunity to work with the best in their chosen field of study.
Enjoyable student lifestyle –
Home to millions of international students, you will get the chance to experience one of the most interesting cultures and also to interact with the other students from all corners of the world. Students have the option to join sports teams, clubs and enjoy campus life with so many cultural and non-cultural activities.
International students in the US can work in a job on campus up to 20 hours a week along with numerous extra-curricular activities that provide real-world job experience. An international degree attained by students from USA becomes a key for wide range of career prospects as you have the chance to look for work in fields that are always seeking ambitious and hard-working students
Get More Details On Our Social Profiles