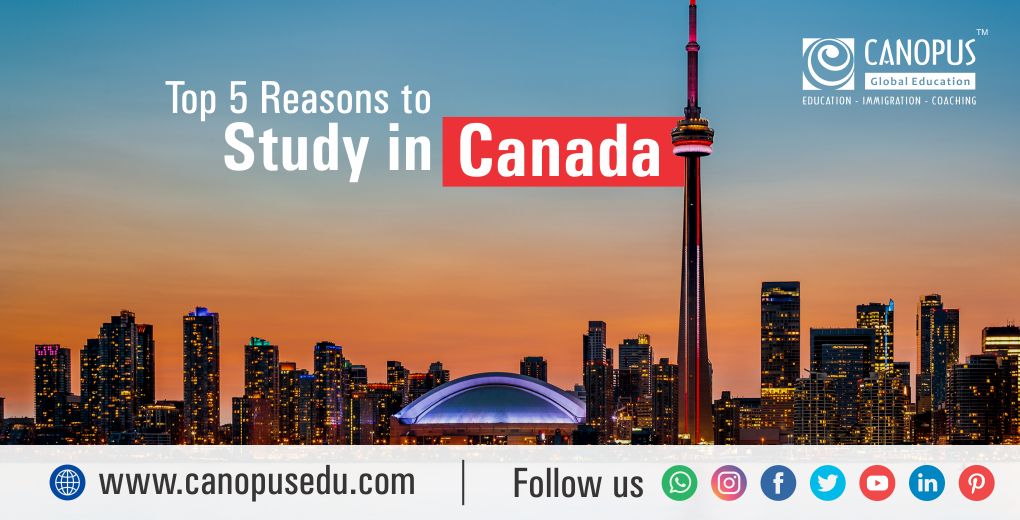 TOP REASONS TO STUDY IN CANADA
Canada is becoming a more popular and preferred study abroad option for students all around the world

.

It is a well-developed and one of the world's most prosperous countries, with higher educational standards, a higher quality of life, and greater civil liberties and economic independence. We understand your hopes and dreams better than anybody else as a leading Canada Student Visa and Immigration Consultant for more than a decade. Every client's Canada visa application is extensively researched by Canopus Global Education – Surat's skilled counsellor team

.
Live in a bilingual environment -
Canada, a country of immigrants, has a multicultural society which makes studying here an excellent opportunity to develop your skills from a multitude of languages with English and French and boost your prospects for an interesting career. Coursework in French and English is an integral part of Canada's educational system, which enriches its cultural and community life.
World class education with lower tuition fees -
Canadian degree and university diplomas or certificates with high academic standards are globally recognized. Also, the cost of living and tuition fees are generally lower than other countries such as USA, UK etc
Gain work experience in Canada after you graduate -
As an international student in Canada you can work up to 40 hours per fortnight during the stay, allowing you to pay your way through university or college all while obtaining crucial work experience in their field of interest and opportunity to meet with variety of people.
You can immigrate to Canada –
Work experience gained on a Post Graduate Work Permit (PGWP) can contribute towards an international graduate's eligibility for permanent immigration programs, and can provide a way to remain in Canada and work while an application for permanent residence is in process. Canada's

Express Entry

immigration system offers bonus points to people with Canadian study and work experience And if Express Entry doesn't work out, Canada's provinces also offer routes to permanent residence through their

Provincial Nominee Programs

.
Enjoy an excellent quality of life -
Canada boasts an enviable quality of life, with a cost of living (e.g., housing, transportation, tuition) that is lower than in other countries, such as the US, France and the UK, and offers safety, stability and respect for the rights of individuals and communities. It is one of the safest places to study with very low crime rates and cases of racial discrimination. Canadian people are very helpful and friendly in nature and they help international student to live in a healthy environment.
Get More Details On Our Social Profiles